New nurse plans to make changes to the school health
Shannon Brown ('92) joined the Mater Dei community this year as the new school nurse. After working at multiple hospitals as a nurse and an executive administrator, Brown chose to come back to her alma mater to make a difference in a way that she was not able to when working in administration.
"I was at a point in my career where I wasn't reaching patients or wasn't making connections," Brown said, "and the opportunity presented itself and it sounded like the perfect place to work in a closer relationship with people in need instead of a leadership position."
As the new nurse, Brown hopes to inspire change within the school. One of her main goals is to educate students in proper health and personal hygiene.
"…I want to be able to do student education on good handwashing." Brown said. "Another big reason that students are going home for is nausea and vomiting or they have abdominal cramps, so I want to provide education about digestive health, things they can eat to stay healthy and those are the kind of things that I'm trying to track and trend and do more to help students learn about their body and make good, healthy decisions."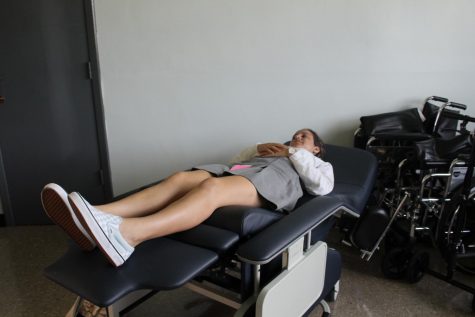 Students who have needed to go to the new nurse have already noticed changes as far as the atmosphere and the way that Brown treats the health office and her position as a whole.
Sophomore David Nisson recently got a concussion from playing football and had to see Brown because he noticing the symptoms during school the next day.
"I felt that she was very knowledgeable on how to help me with my injury," Nisson said. "She really took initiative in her work."
Feeling nauseous, sophomore Gianni Palazzolo also visited the nurse and felt that her experience was extremely professional and that she was in good hands.
"She made sure that I was comfortable when I was lying down," Palazzolo said. "She was really nice and I knew that she wanted to make me feel my best while I was there instead of just saying, 'Here's your medicine.' I knew that she cared and wanted to help me in any way that she could."
One main idea that Brown really emphasizes is hydration. She makes sure that all the students that enter her health office know to drink plenty of water because she believes it's the key to a good health.
"As a nurse who's worked in a hospital, dehydration is a really big indication for a lot of medical issues, so keeping students hydrated is the first kind of principle of success for healthy living," Brown said. "I recognized that students want cold water and we have it in the health office, so I really encourage for students to come and fill up their hydro flask, to keep themselves healthy… I want to make water accessible to students because I think being hydrated is the key to overall health."
To ensure that the health office is always improving and that the school continues to adapt to the new injuries and illnesses the students and faculty might have, Brown keeps records and statistics of all the cases she sees in the health office. Brown uses these statistics to use as a reference during meetings with administration so that she can add new additions to the health office in order to better improve the medical attention the students and faculty receive.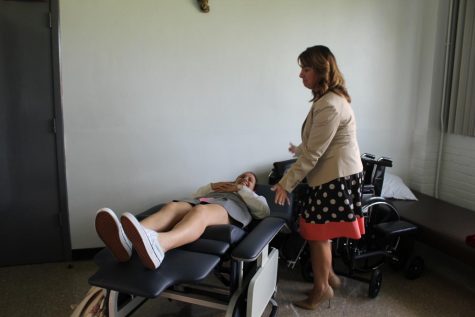 One new addition Brown has added is a Trendelenburg position chair, which is a hospital chair that will make not only Brown's life as a nurse easier but any emergency responders that need to escort a student out of the school using a gurney. Before this new chair, there was only flat, low "beds" that made giving attention and help to the students nearly impossible to accomplish. The chair reclines and is adjustable, allowing Brown and anyone who needs to to raise or lower the seat depending on the situation. The armrests also go down so if needed, paramedics can easily move a student or faculty member directly from the chair to a gurney without having to pick up or further injure the student.
Brown said she wants to receive feedback from the students and faculty so that she can better improve the health office to their needs.
"I hope to hear from the students on what they think they need from the health office because I think that this is a relationship that [I want to make]," she said. "I'm here to serve the students and the facility so I need to know what it is they need in order to serve them in the best way possible."
To contact Nurse Brown, email her at [email protected] or visit the health office.