New robotics lab creates STEM opportunities for students
In an effort to increase the technology and engineering opportunities provided to students, a new robotics space maker has been built in room 707. The room renovation included the addition of whiteboard desks, 3D printers, CNC printers and new tools.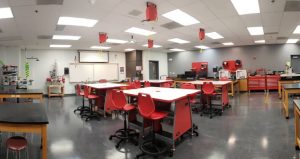 Mel Morallos, the robotics team coach and science teacher, has been helping his students learn how to use the technology and will be undergoing training himself to understand the workings of some of the new equipment.
"A 3D Printer is a fabrication where it adds material, so it uses plastic, melts it, and then it puts it down layer by layer to create something," Morallos said. "A CNC does the opposite; it's 3D but you start off with an object and it removes material."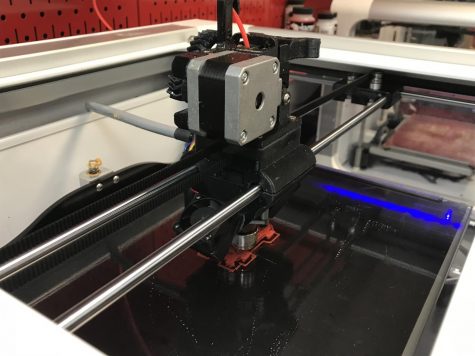 Morallos also believes that, in addition to the helpful gadgets, the space serves as a great environment for students by supporting collaboration on many different levels.
"The organization allows for the team to be more efficient," he said. "The new whiteboard tables are beneficial to both students and the team. These are used for designs, problem solving in programming and much more. A great example is my ability to write on the table with a student and troubleshoot or solve a problem."
Senior Stacy Phan, one of the robotics team captains said that the overall new layout is a lot more organized, and helpful because they have more control of the space.
"The new peg boards are really helpful because we can put the tools there. We're also able to better organize, so that we know what kind of resources we have for the robot," Phan said. "The new white board tables are also a nice feature because you can just draw directly on the table, and later take a picture of your sketch without having to worry about loosing your paper."
Senior Ralph Gastelum, another team captain, said that he believes the CNC printer will be very beneficial for the the team by making the building process much more simpler. With the new addition, now they have the ability to create their own parts rather than waiting two weeks for the manufacturer.
"During my freshman year, we only had the room and not much like power tools. We were not really able to grow as a team, and we were still a club," Gastelum said. "Now that we have all of these resources, we are being recognized as a team. It's helping people come into the room and see what we actually do. It also allows us to organize and make it look professional for people who want to join in the future."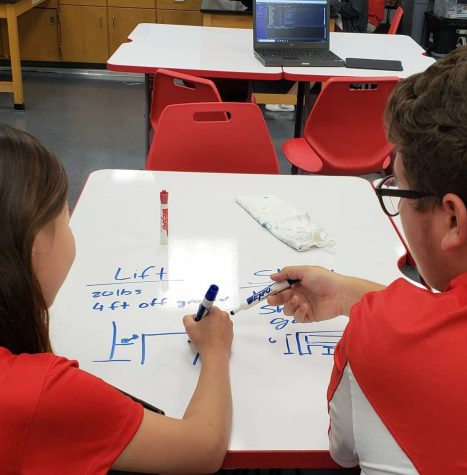 The new robotics space maker is an example of how the school is emphasizing and increasing the STEM opportunities offered on campus. Samantha Olsen, STEM coordinator and a science teacher, explained that her colleagues and her have been pushing for more STEM curriculum, as well as resources such as the lab to support the robotics team and other STEM-related clubs or groups.
"Students will probably agree— there are countless athletic, performing arts, club, and even academic offerings, but STEM is lacking considerably, particularly technology and engineering. As an Apple school, where students are using iPads for nearly everything they do, this should not be the case," Olsen said.
Although not all robotics team members plan on pursuing a career in STEM, they believe that this experience will provide them with the necessary opportunities to learn vital life long lessons. Joshua Mock, a former robotics team member and Mater Dei graduate shares how this experience has greatly affected his life.
"One of the greatest skills, I've learned through Mater Dei robotics was working with other people," Mock said. "Learning how to get past differences and disagreements for a common purpose is crucial in any engineering job, and learning that early on has put me in a better spot than a lot of my peers."
The robotics team competes every year in the First Robotics Competition, FRC. According to the Mater Dei website,"FRC combines the excitement of sport with the rigors of science and technology. Under strict rules, limited resources, and time limit, teams of 25 students or more are challenged to raise funds, design a team 'brand,' hone teamwork skills, and build and program robots to perform prescribed tasks against a field of competitors."
At this moment, the robotics team is in pre-season and will not begin competitions until March. However, in a little more than a month, students may see mock robots roaming around campus. Others can drop by room 707 on Tuesdays or Thursdays to see students at work.

"It's really exciting to be part of something that's growing and expanding," Morallos said. "When I was a student here, I was part of the Mater Dei web committee where three of us worked on the sixth page on the Mater Dei website.  Now students are 3D Printing, working with Spheros, using power tools, and the list keeps growing. It's an exciting time to be a Monarch." 

Follow along with the robotics team by checking out their Instagram, @monarchrobotics.