November Monarchs of the Month: Cecilia Lopez and Luke O'Hara
Each month, a boy and a girl from the senior class are nominated by teachers and faculty to be Monarchs of the Month. Those chosen uphold and exemplify what it means to be a Monarch and this award recognizes their accomplishments during their four years at Mater Dei. The students honored for November Monarchs of the Month are Cecilia Lopez and Luke O'Hara.
Student photographer uses her passion to spread awareness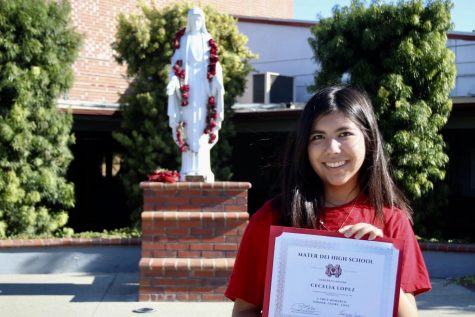 As president of Break the Silence Club and photo editor for The Scarlet Scroll student newspaper, Lopez uses her leadership and photography skills to make an impact on her school and local community.
As a way to help victims of human trafficking, Lopez started the Break the Silence Club on campus as a sophomore in 2016. In order to raise awareness and fundraise, the club holds two bracelet sales per year; 100 percent of the proceeds go to support human trafficking survivors living in Uganda, who make the bracelets themselves.
"It's truly so special knowing that you're wearing a bracelet that is the product of a survivor's first steps towards leading an emotionally, physically and economically stable life," Lopez said.
Lopez is also involved on campus with her position on the student newspaper, which comes with the responsibilities of reviewing, editing, and assisting with the production of all photos for the newspaper.
"I like feel Mater Dei promotes leadership a lot and it's really important to me because, coming from a small school in Santa Ana, before I didn't really have that sense of leadership," Lopez said.
Mixing her passions for photography and advocating for change, Lopez debuted her art exhibit "Trafficked" in October at the Grand Central Arts Center in Downtown Santa Ana. The goal of the exhibit is to get people talking about the issue of human trafficking that is going on in our communities.
"By practicing social justice in both my club and photography, I've been able to find a middle ground in which I can incorporate both my passion and my art," she said.
She said she has been able to do this because of her learning experiences at Mater Dei.
"I am so grateful for having had the opportunity to attend Mater Dei where so students come from so many different backgrounds," Lopez said. "I've been able to meet so many interesting people and learn about different cultures and I wouldn't have had this opportunity at any other school."
Football player hopes to leave legacy of leadership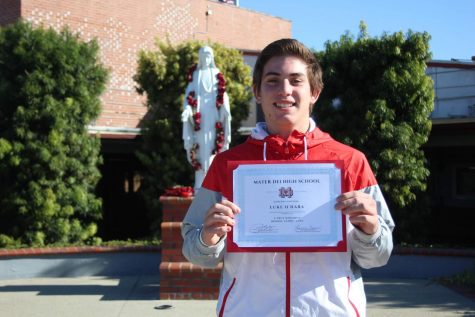 As a quarterback for the nationally-ranked Monarch football team, O'Hara exemplifies leadership qualities both on and off the field. In his final year at the school, O'Hara said he strives to set an example for present and future Monarchs. 
"Being a leader at Mater Dei means that you have to work harder than anybody else, and leading by example, rather than talking about it," O'Hara said.
Aside from his rigorous football schedule, O'Hara is constantly working on building his career in journalism and broadcasting. O'Hara and fellow senior, Dylan denDekker, co-created Monarchs Sports, a weekly segment aired on Monarch Television, during their sophomore year. Monarchs Sports was created to showcase Mater Dei sports and "the legacy it has."
"We want to show the students what [Mater Dei athletics are] all about, so we decided to create a little segment on [Monarch Television] and show the students what's going on in the athletic community," O'Hara said.
Generations of the O'Hara family – including his grandparents, father, aunts, uncles and siblings – have attended Mater Dei since it opened in 1950, and O'Hara said he is honored to be recognized and be a part of the tradition.
"I'm very grateful that I get to come here because not a lot of people can say they went to Mater Dei and loved it," he said.
Before leaving to college to study broadcasting, O'Hara hopes to leave a lasting impression on the Mater Dei community.
"My favorite thing about Mater Dei is the community," O'Hara said. "Everyone is one for all. Everyone is for each other … We all get to come together and just be a family."