Local vegan bakery serves healthy treats with a cup of culture
The warm and sweet smell of Mexican pan dulce bread comforts customers as they enter Victoria's Bakery in Santa Ana. With more than 400 breads baked daily, the bakery offers a wide variety of options including, conchas, orejas, empanadas, elotes and puerquitos. However, what sets this bakery apart from most is the unique vegan options offered, such as customers' favorite, bolillo with vegan cream cheese and jalapeños.
Victoria's Bakery opened in 2010 as a small family business. At first, the family only served non-vegan options until the owner, Earvin Lopez, became vegan for health and ethical reasons in 2016. The bakery has since then transitioned toward a culture of veganism. While creating his vegan bread, Lopez mainly sought inspiration from family recipes by experimenting with alternative, healthier and vegan ingredients that worked well. This process took about six months until he mastered the recipes.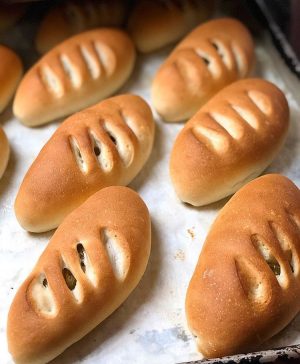 "I think that it's really important to provide healthier alternatives in Santa Ana because people need these options in the local community, instead of having to drive far," Lopez said. "Before I started, there were little to no vegan options, but now I am starting to see veganism really grow in Santa Ana. It thrills me to be a part of this."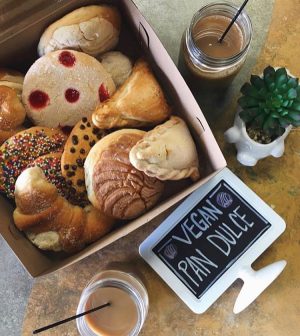 According to Lopez, 80 percent of his customers are vegan and mostly come from within the Santa Ana community. With the growing prevalence of vegan opportunities offered locally, even non-vegans have begun to enjoy the bakery's goods and learn more about the vegan diet.
"We have lot of families come to the bakery and they'll try the bread and be pleasantly surprised." Lopez said. "One customer told me that he didn't even know that the bread was vegan and that it tasted just like regular pan dulce, if not even better."
Through his bakery, Lopez wants people to experience the same excitement and joy that he felt visiting his favorite pan dulce bakery every morning as a child. For those who are trying pan dulce for the first time, he hopes that they can enjoy this traditional Mexican treat while also staying healthy.
Senior Cecilia DePasquale, who also follows a health-conscious diet, said she believes that communities can benefit from these types of food options in order to be stronger, happier and healthier.
"Enjoying your favorite foods, such as pan dulce, does not have to end because they are unhealthy. Anyone can find a middle ground by simply substituting certain ingredients in a recipe for better, more nourishing ones," DePasquale said. "I really believe that you are all the more enriched when you get to enjoy the staple foods of your culture in a healthy and delicious way."
In the future, Lopez plans to open a second location in Los Angeles and also hopes that Victoria's can soon offer shipping options out of state. For businesses attempting to make this same transition into veganism, he encourages them to pursue their goals and not be afraid.
"There will always be people who don't like your stuff, but don't give up. Hopefully when others  begin to become more familiar with veganism they'll look at it not just as a 'diet,' but a lifestyle," Lopez said. "This is important because it concerns us all and the wellbeing of animals, as well as our environment and ultimately what we wish to put out in this world."
Victoria's Bakery is located on 709 N Bristol St in Santa Ana. For more information, visit their Instagram @veganbyvictorias.