Varsity swimmer Su trains for Olympics, commits to UCLA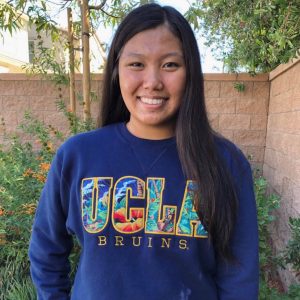 In preparation for next summer's trials, senior Stephanie Su has been training to qualify for the 400-, 800-, or 1500-meter freestyle for the 2020 Tokyo Olympics.
Her journey as a competitive swimmer began at the age of 10.
"At first, my parents put me in swimming to make sure that I'm water safe and just learn the basics of it," Su said. "I did that for a while then the instructor said, 'You know what? You should join a swim team.' And then it just all went from there."
Over her last three years in high school, Su said she has felt the support of her girls' varsity swim team coach Kelly Dullard.
"Stephanie has done a great job staying consistent in her training and race planning which has helped define her current success as a swimmer," Dullard said. "Stephanie's calm demeanor helps her competitiveness. She has a grasp on her energy levels which allows her to compete at the highest level and the proper time, especially during major competitions. Being primarily a distance swimmer, maintaining calm, cool, and collected is extremely important in both training and competition."
Outside of the pool, Su, who just committed to the University of California Los Angeles, hopes to pursue a career in sports medicine or any concentration within the medical field. She discovered her passion for these subjects as a result of her swim career, in addition to her interest in her current science course, honors Anatomy and Physiology.
"Stephanie is a great student. She is in my Honors Anatomy & Physiology class and does fantastic," Su's teacher Kali Gomez said. "She is hard-working, inquisitive, and very respectful … Stephanie is very determined, and although she is quiet, she is always able to add input into a discussion. She has goals that she sets for herself and works hard to achieve them."
In order to meet one of her major goals of qualifying for the Olympics, Su said she has to be one of the fastest two swimmers in her individual event this summer during the Olympic trials meet. While she already has the qualifying time to make the National Swim Team, she is training hard to swim even faster to make the Olympic team.
"I'm really happy that swimming has taken me this far," Su said. "I wouldn't have imagined that I would get to compete at these big meets and swim in college when I started swimming."