Off-season sports practices start up, halt, then begin again
In the COVID-19 Pandemic, Sports Team are headed back to Campus but with cautious guidelines.
After being home for more than four months, student-athletes were allowed to come back on campus to prepare for seasons on June 22. 
For teams to maintain a safe environment, school administration and the athletic department instated the following policies: Upon entering campus, students would have their temperatures checked, athletes would be required to wear a mask when they enter, but can take them off during socially-distanced drills. The athletics department posted a checklist and video on their Instagram explaining what the students need to be allowed back on campus.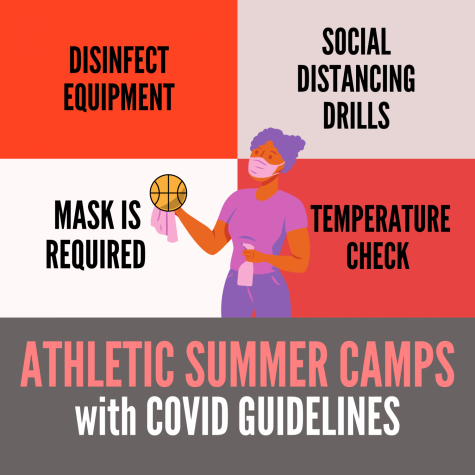 For freshman Spencer Healy, who is experiencing his first year playing on the school's freshman football team, he said his sports experience has definitely been different. 
"Overall, the restrictions were easy and easy enough to abide by," Healy said.
Even though practice looks different this year because of the new protocols, senior Paola Quezada, who is on the girls' soccer team, didn't feel that the practice was that different.
"The only differences we had were to stay spaced out and disinfect our equipment after using it," Quezada said."We have more restrictions on what drills we can and can't do and have to stay 6 feet apart really limits the space we have, but we're happy to be on the field."
However, on July 7, the school's athletic department released a statement on Instagram stating that summer camps had been postponed for this season. This came from the advice of the Orange County Department of Education and the Diocese of Orange due to the spike of COVID-19 cases in Orange County. Even though summer camps were cut short, it didn't stop athletes from continuing to train on their own personal time.
"I have a very active family so we go hiking, [take] bike rides, swimming, or go to the beach often," Quezada said. "I also have an older brother who plays soccer too so we'll go to a nearby park and pass, shoot, and work on our foot control together, then at home I workout."
Off-season camps and practices were then later reinstated for outdoor and indoor practice on Aug. 17. Right now, for example, almost all teams, with the exception of the track – which is a very large co-ed team – are practicing on campus.
Even though these summer camps looked completely different than any other seasons, athletes were given a glimpse of what sports will be like during the COVID-19 pandemic.
"[I miss practice] very much because practicing with my team is always great," Quezada said. "We're all working towards the same goals which are to get better so we all push each other to our full potential."
Although there are still many unknowns regarding upcoming sports seasons, Athletics is implementing these guidelines to help get back going into our "new" normal. A lot of new changes can happen, and Associate Director of Athletics Kevin Kiernan said they are preparing for whatever is coming and is taking it slowly this season.
"We are taking one day at a time this season," Kiernan said. "Hopefully we will play and it will be safe."