Sports teams adjust to new environment with in-person practices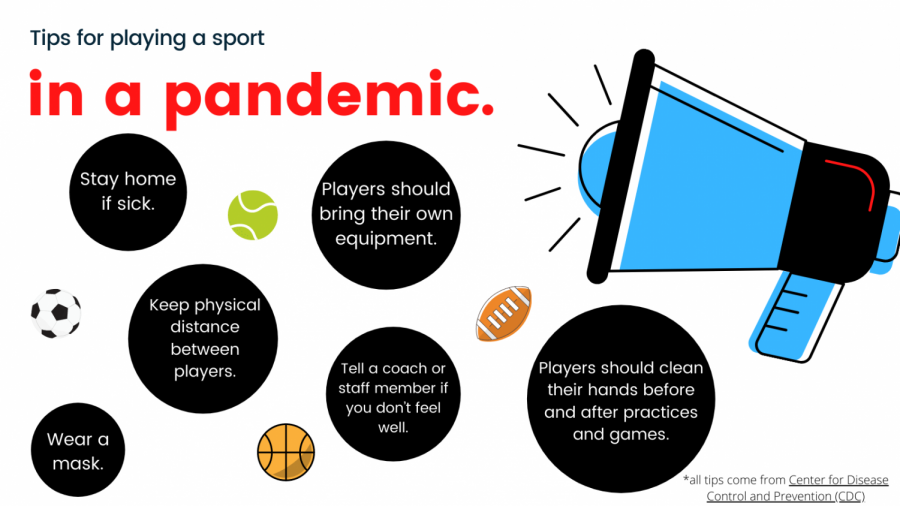 With the school year beginning online, sports teams were eager to start practicing again on campus and in-person, being mindful of the new health and safety precautions that were put in place.
The new safety measures require that student athletes wear a mask when arriving and leaving campus, wash their hands before coming to practice, sanitizing as needed, and conducting their own temperature checks to make sure they do not have a fever.
Junior Alexis Brown is on varsity for the girls tennis team and started practicing in-person the week of Sept. 14. The girl tennis team trains at the Los Cab Sports Village in Fountain Valley. Before being able to get back on the court, Brown had to find ways to cope with not being with her team.
"I would hit against a wall at my house, but after a while there is only so much that will do," Brown said. "Eventually, me and some of my friends would FaceTime and do a workout together so it wouldn't be the same routine every time."
Brown explained that over quarantine, the varsity team hired a new coach so it was a big adjustment coming back for both the new coach and the players. Since coming back, the tennis team abides by the mask rule of the Los Cab club.
"When you walk in, because it's a club, you have to walk through the lobby so you have to wear your mask until you get to your court," Brown said. "Once you're on the court, you can take it off. The coaches wear masks and everyone keeps social distance so it's fine. If there is a break for a long time and you're sitting close to someone, then you put your mask back on."
According to Brown, with everyone being at different levels, the coach decided to go back to the basics and try to get the girls back into a regular practice.
"Even though I'd been hitting [a ball] against my wall, you can't really practice by yourself and practice your serve, it's not the same," Brown said. "When I came back [to practice], I was rusty, so my coach was trying to get everyone back into their normal routines and eating well. He really focused on technique and we're all playing with each other which is good."
The girls' tennis season now runs concurrently with the boys' tennis team, which is in the spring; typically, the girls play in the fall with preseason starting the first day of school. Now, preseason starts in December.
"I'm just excited to get back out and play. I miss being out [on the court] because it's different obviously when you play in a match," Brown said. "Being able to be back with the team, going to different schools, and playing different teams is the fun part of it and I just miss it."
Freshman Lexie MacDougall was able to practice with the Mater Dei tennis program for the first time a couple of weeks ago. She felt that, even with less people on the courts, it felt normal.
"I just hope to make new friends [this season] and at least get on junior varsity," MacDougall said. "But I'm trying to get on varsity."
According to MacDougall, if there is a problem with accessing tennis courts to practice, there is always an alternative. For example, bouncing a ball off the wall or going for a jog.
"Just have fun … you just have to relax because you might be tight for the first couple of practices," MacDougall said. "…If you are relaxed, it won't be so awkward with other people."
While tennis is hard at work practicing on off campus courts, girls soccer kicks off their first week of practice on campus on Aug. 24. Sophomore Saylor Bents explained that coming back for her second season came with a lot of changes.
"A lot has changed because there's a lot of drills that we've always done like scrimmaging and like playing each other that we can't do because we can't have contact," Bents said. "Just coming to campus and not having people everywhere and hearing the bells and announcements, it's just different and seeing everyone in masks. It's just so different."
Bents stated that there are three groups that practice currently, which include prospective varsity or the varsity returners, junior varsity returners, and freshman. She mentioned that the only challenging part of coming back for practice is remembering she has to actually go and get ready for practice.
"I'm excited for season. I loved it last year and it was so much fun to play," Bents said. "This year, they're pushing [season] back so it starts at the end of January and goes until May."
Along with playing soccer for Mater Dei, Bents also plays on a club team and said she has been able to practice with her club team with the same COVID-19 precautions that Mater Dei has implemented. Before returning to campus, she took part in Zoom trainings that her club had offered and her goalie coach provided her one-on-one private sessions once or twice a week.
"My club coach also would send out videos of skills to practice like dribbling around cones and different exercises that we would have to record [ourselves doing] and send it [back]," Bents said. "I went on runs almost everyday, sometimes every other day but that's kind of how I stayed in shape."
For her upcoming season, Bents hopes to make the junior varsity team and to lower the amount of goals made against her.
"I've learned that if you really want to play you have to stay motivated," Bents said. "Some advice I would give is to always wear a mask and make sure you sanitize. I mean everybody says the same thing, but just preparing yourself and staying home before [practice] just to be safe could make a big difference."
Leave a Comment