October Monarchs of the Month: Spencer Freedman and Kate Wasson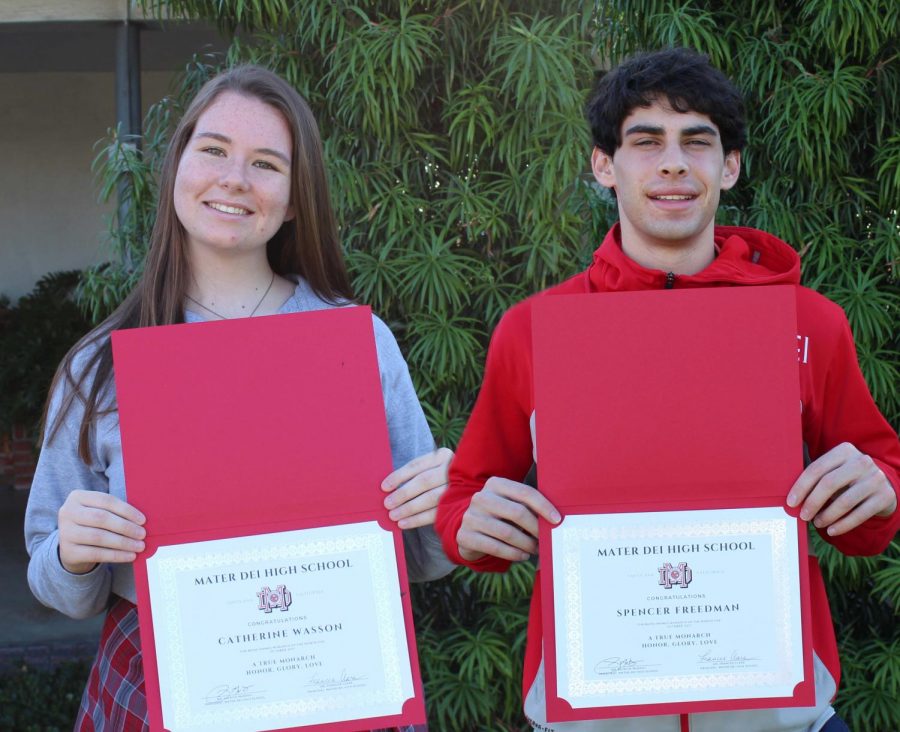 Seniors Spencer Freedman and Kate Wasson were chosen as the October Monarchs of the Month on Oct. 5. Every month, faculty and staff nominate a senior boy and girl for Monarch of the Month, a tradition that recognizes students' Monarch character, as well as their accomplishments during their four years at Mater Dei.
Basketball player and ASB leader chosen for his athletic and leadership roles
Harvard-commit Spencer Freedman is no stranger to game-changing half-court shots, which helped his basketball team achieve a 33-3 season this year. On and off the court, Freeman exemplifies Monarch character and pride through his leadership and athletic roles. As an Honorary Scarlet Ambassador for ASB, Freedman visits feeder schools to talk about his experiences at the school and why middle schoolers should consider attending Mater Dei.
"Spencer is an outstanding young Man and an outstanding student," Principal Frances Clare said. "He is a skilled and talented athlete."
Freedman said he hopes to use his senior year as a way to grow as person intellectually and academically.
"I really hope to branch out and meet a lot of new people and this year I really wanna enjoy my senior year … you really only get one senior year and one high school experience so I really want to make the most of it," Freedman said.
Freedman credits his accomplishments to the endless support the school exhibits to all students.
"You can do anything you want, you can be anyone you want, and everyone all around campus, whether it be students or faculty members," Freedman said. "They're all incredibly supportive of all of your goals."
Wasson chosen for her continuous involvement on campus
Kate Wasson never shies away from an opportunity to get involved. According to Principal Clare, one of the main reasons Wasson was selected was for exemplifying excellent Monarch character and for completely submerging herself into all that the school has to offer.
"Kate is an outstanding young woman and an outstanding student," Principal Clare said. "She is dedicated and committed to activities such as the mock trial team."
In the past four years, Wasson has been involved in multiple clubs on campus. This year, she is the president of the Journalism and Social Justice clubs, as well as the editor-at-large for the school newspaper, The Scarlet Scroll.
"I was very excited to be a Monarch of the Month myself because my mom was a girl of the month which is like Monarch of the Month, but in 1980, which is really cool being able to carry on that tradition and that legacy," Wasson said.
In her final year at the school, Wasson hopes to gain a new outlook on her entire Mater Dei experience.
"I love that there are so many things that you can do and if they don't have something you can definitely suggest that and I really love that you can be involved and do what you want to do," she said. "My goal is to go into a law in politics and I was really able to explore my passion for it at Mater Dei."