Volunteer opportunities at Mater Dei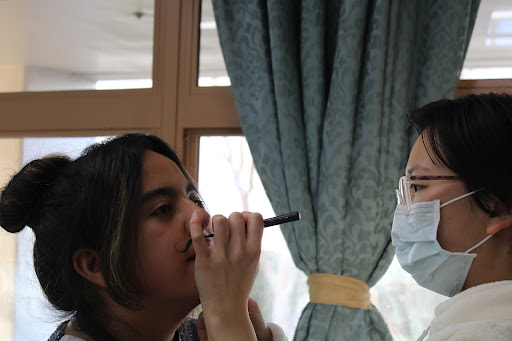 By late-April of their senior year, Mater Dei students are required to have a minimum of 80 service hours, 40 of these hours being direct. For some students, it may be difficult to find opportunities in one's local community that work within a confined schedule and that offer direct opportunities. 
Associate Director of Campus Ministry, Kendra Hart, emphasizes the importance of finding a passion within your service. 
"Well, I think firstly when you're doing service hours, we need to find something that you're interested in because you're not going to want to go back and stay on top of anything if you're not interested in it," Hart said. 
Luckily for Mater Dei students, there are opportunities for every interest. If one is interested in working with children, the Sacred Heart Sisters offer a weekly direct service opportunity through Sacred Heart Kids Club. 
Through this organization, volunteers or staff assist the Sisters in teaching children about the Catholic faith on the virtual meeting app Zoom, by leading small and helping in larger groups, in addition to meeting once a month in-person. The Sacred Heart Sisters also offer 6 hour direct service hour opportunities for assistance in adult retreats on Saturdays. Volunteers are eligible as long as they are in high school. 
Sister Paula, a nun for the The Sacred Heart Sisters order, provides an experience for others that allows them to dive deeper into their faith, and to understand it. 
"You get to work as a team, with other [teens], the sisters and other teams. And you provide a day for people to meet God in a particular way, at the retreat center. So I think it can be very rewarding," Sister Paula said.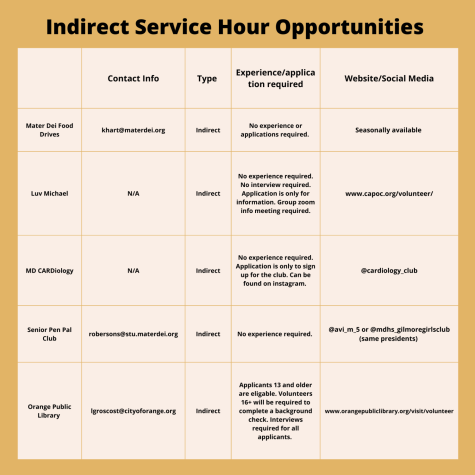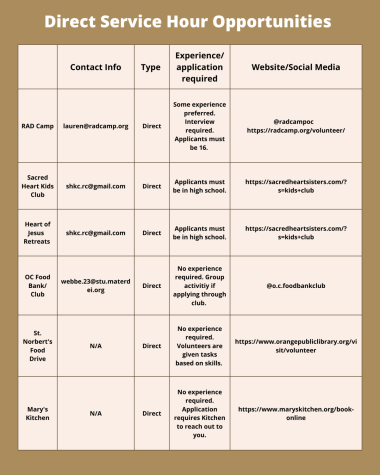 Another opportunity that involves working with kids is Rises Above Disabilities (RAD). RAD helps campers embrace who they are, as they are. This program offers three different camps, including RAD Camp, that works with adults 22+, RAD Junior Camp, that works with teens 13-21, and RAD Mini Camp, that works with kids ages four to twelve. RAD Camp is an overnight camp at Vanguard University ranging in duration from four to six days. Applicants for the program must be sixteen or older. 
Food drives are another way to earn large amounts of direct service hours. There are a multitude of organizations in various cities throughout the county, including Mary's Kitchen, Saint Norbert's Food Drive, Orange County (OC) Food Bank, and Someone Cares Soup Kitchen, which is open every day. Mater Dei also offers seasonal food drives where a student can bring up to five bags of non-perishable food or up to five gift cards for indirect hours.
Mary's Kitchen has opportunities for weekly service shifts, where one can sign up for as many slots as preferred. The shift includes preparing food, packing lunches, food distribution, mail sorting, and other miscellaneous tasks. Saint Norbert's Food Drive is also a weekly event, which occurs every Saturday from 9 a.m. to 12:30 p.m. The job includes preparing a bag of produce, non-perishable foods, and the item of the week, checking-in cars as they come in, and loading cars with bags. 
Despite having a link to sign up, the food drive needs volunteers no matter how full it gets, so feel free to come by anyway without signing up. Orange County (OC) Food Bank also meets weekly, but times vary depending if one is signed up individually, or with the OC Foodbank Club. At this organization, volunteers work together to pack thousands of boxes daily. 
Co-President of OC Foodbank Club and junior Emmi Webb, speaks about how volunteering with this organization changed her appreciation of life. 
"To feel like some type of person with food insecurity can just open this box and it just feels good because you get to put a piece of it and wonder if someone's gonna get this box, and it could change their life," Webb said. 
Luv Michael offers opportunities for easy-access indirect service. One simply attends a 30-minute interview where Luv Michael volunteers explain their mission, and send ten text messages to family members or friends, asking them to donate to the Luv Michael fundraiser. Completing this task will allow one to redeem ten service hours. Although the people that are sent the link do not need to donate to get service, it is greatly appreciated. 
MD CARDiology Club also provides students many indirect service hour opportunities as well. By signing up for their club, one can be informed about various opportunities that usually offer up to five indirect hours per event. The club earns hours by making cards for people battling heart conditions and other physical disabilities. 
Similarly, the Senior Pen Pal Club writes letters to senior citizens at the Amethyst Home. Each person is assigned a pen pal to write to and get to know. Members can write as many cards as they wish, and receive one service hour per card. 
Libraries are another way to earn tons of indirect hours. At the Orange Public Library, volunteers bring books from upstairs into the basement to be sorted and swapped, and prep crafts for the kids corner. Opportunities come up randomly, and last as long as five hours at a time. 
All of the information for these organizations can be found on the infographic above. For any further questions, please email [email protected].
Leave a Comment
Donate to The Scarlet Scroll
Your donation will support the Student Publications Department at Mater Dei High School. Your contribution will allow us to keep our equipment up to date and cover our annual website hosting costs.