Senior student begins competing in pageants to raise money for local charities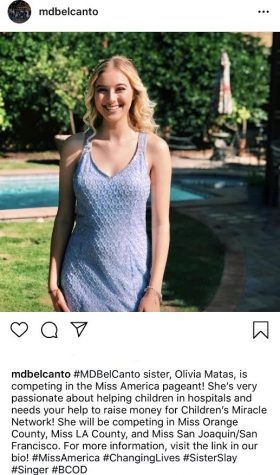 There's five minutes until it's time to walk the runway. The fluorescent light-filled room overflows with audience members in suits and dresses waiting to see a showcase of beauty and talent. Embellished with makeup and jewelry, the contestants wait anxiously for their turn on stage. Among the group of women is senior Olivia Matas.
With the start of 2019, Matas, a transfer student from Houston, Texas, began competing in a series of pageants to raise money for charity through the Miss America organization. Matas was a contestant in the Miss Central California competition in Sacramento during the weekend of Feb. 9 in which she earned fourth place out of 40 women. She will continue to compete in the Miss Los Angeles County competition at Los Angeles tomorrow, and the Miss Hollywood competition later this spring. If Matas continues to place in these pageants, she will be able to continue to compete in Miss California.
In order to qualify for the pageants, Matas and the other models must be able to demonstrate some sort of talent or skill in order to qualify for competition. In her audition, Matas sang "Tin Man" by Miranda Lambert.
Miss America also requires all pageant contestants to raise a minimum of $300 for the Children's Miracle Network (CMN) in order to compete, but contestants can also choose to raise funds for an additional organization as well. If the candidate
Locally, CMN helps kids who are being cared for by the Children's Hospital of Orange County (CHOC) to pay for their medical needs. According to Matas, CMN gives 20 percent to charitable care, 8 percent to custom needs, 15 percent to education, 18 percent to equipment, 25 percent to research, and 15 percent to special services. All the proceeds go to children that deal with cancer, diabetes, surgeries and trauma. In addition, some of the profits are forwarded to premature newborn infants in intensive care unit (NICU). On her Miss America biography, Matas wrote that she wishes to "[touch the] lives of sick and injured children."
Matas is also raising money for Elderly Advocacy, a nonprofit organization helping elders that have dealt with some sort of abuse. Matas said both the CMN and Elderly Advocacy are "very near to my heart."
"My great grandma was a part of the 60 percent of seniors who are abused in nursing homes every year," Matas said. "When living in Texas, I was able to volunteer at a nursing home for two years until Hurricane Harvey hit, [which displaced] many of the senior citizens who were living there, giving them no new options for a home. Seniors have always held a close place in my heart and you can learn so much from them."
Matas' work with charity and pageants have already gained attention around school. After Matas made a presentation about her charity goals to the school's Bel Canto choir, the choir shared their support for her by posting on Instagram promoting her pageants. Also, senior Britney Nguyen, another member of Bel Canto, donated $150 to her charity.
"I have a younger sister who is always in-and-out of hospitals due to a medical condition," Nguyen said. "Having heard Olivia's goals in helping hospitalized children, I knew that I wanted to help her somehow."
Because of the contributions from the school community, including those from her fellow choir members, Matas has nearly doubled her charity goal from $300 to $550.
Her brother, junior Nathan Matas is also part of his sister's support system.
"Seeing Olivia compete makes me feel proud and happy knowing that she is sharing her God-given gifts to the public and gets to do what she loves doing whether its helping the community, raising awareness about current world issues, or singing her heart out. Getting to see her smile after winning or losing makes me proud to be her brother," he said. ""I look up to Olivia because she is so talented and blessed to be showing the world who she is and what she stands for without fear of judgement or losing. She is truly a role model to look up to."
Matas saids she feels "motivated" and thankful for the response she has received from family and friends.
"So far everyone has be super excited and definitely kept me motivated for the pageants," Matas said. "Especially [from] some of the other students in Mater Dei that have won a crown and know the pageant world very well, such as [senior] Cameron Doan."
Matas will continue to compete within the course of the next month, along with raising funds for both CMN and Elderly Advocacy. To donate, visit Matas' Miss America page.