Seniors working on College Apps with COVID restrictions
During College Application seasons, seniors face hurdles in applying to college due to COVID-19 pandemic.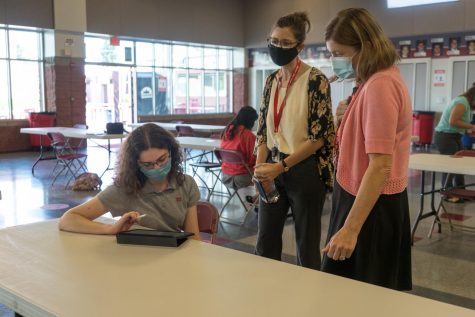 At the end of their four years of high school, seniors are now beginning their next journey in life: college. In the fall semester, seniors start to apply to colleges all over the country. With the college application process coming to an end, some seniors are looking back on this process; the good and the bad. In the time of the COVID pandemic, it has created blockages for seniors figuring out which colleges to attend. 
In normal times, seniors spend the end of their junior and beginning of their senior year visiting and touring colleges that interest them. According to the CollegeBoard, the benefits of getting a firsthand view at an interesting college is being able to talk to current students and teachers, research into the financial aid options, and be able to visualize if this college is the right fit.
Some students, like senior Joseph Rosol, were lucky enough to visit their preferred colleges before the pandemic. 
"Frequently enough, I visited both of the schools I [wished] to attend before the pandemic hit," Rosol said. "San Francisco State is in the city, really tight and right in the center. With Montana, it's right on the hillside like right out of those Western films and has a [big] space. I am really into mountain biking so the [University of Montana] has a big mountain biking community that they were telling me I should join." 
When Rosol was taking tours of the two campuses he was interested in, it enabled him to commit to the University of Montana as his college of choice by comparing the two options that each college offered. The benefit of visiting these colleges allowed him to make his final decision of where he would spend the next four years. 
Rosol said the University of Montana offered him the chance to be "out of the state and fit his element of being a 'woodsy guy.'" 
Even though Rosol was lucky enough to visit the schools he was intrigued by, some students were not as fortunate to visit all of their top schools before the pandemic hit. Some seniors, like Fiona Waldron, were not able to visit one of her top schools, the University of Tennessee.
"For the University of Tennessee, I have not been able to visit but if I get in, I will go visit and that will be a big aspect to whether I decide to go or not, plus the financial aid option," Waldron said. "If I absolutely hate the campus for some reason, I know I have other options from schools I have visited [before the pandemic.]"
Although in-person visits have been impacted, colleges have helped seniors by sending brochures, creating virtual campus tours on youtube, sending out constant emails about individual opportunities that are given, and even Zoom events with administrators. This type of brochure and virtual experiences replaced the campus tours this year to gain students' interest in their school. 
"[For the University of Montana,] they sent me weekly information packets of the rundown the school has for next year's plan, the programs, and brochures of what to expect at our campus, which I was very grateful for," Rosol said.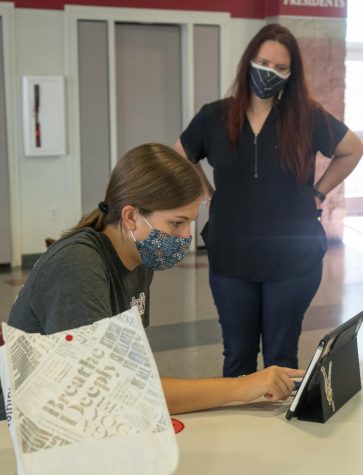 From visiting colleges or even finding information from these schools, students still need to research schools' programs to find a program that fits their values and interests. Each college has programs that fit with individual students. It is recommended that students research their preferred programs to help them decide which college they want to attend.
"[I personally research colleges] based on the majors and stuff they have," Waldron said. "Also, knowing myself as a student by looking at their student-teacher ratio. As a learner, I am better off with a one-on-one student-teacher class, than being with a 500 person classroom. I find these programs by going on their website, and following their social media page." 
With the colleges now turning to virtual tours and meetings, it creates a bit of a misconnection with the administrator and the prospective students trying to find a feel in the campus. 
Many students like senior Abby Hampton feel, "Virtual meetings are great, but I think that if I was able to interact with admissions representatives in-person, I could have gotten a better feeling for a school." 
Near the end of the fall semester and the college application process season, some seniors have gotten back their preferred college decisions and are finalizing their choices of picking out a college to attend next year. The next class to start this journey will be the class of 2022. Here is some advice current seniors have given to the Class of 2022 about starting their application.
"Do the essays early. Don't procrastinate on them. Get ahead, start on your essays, and ask your teachers for recommendations. some of them will take a lot longer than you expect. The counselor's recommendation, get that one first, and that parent/student guide packet. Make sure to get them done as soon as you can because the earlier you do them, the less stress you will feel on yourselves," Waldron said.
"Any advice I would give is the timing. Map it out in general, you know when your deadline is. For me, I started looking for colleges my junior year, started doing the SAT course in the April time frame and spring …and then after that, focus[ed] on the essay writing my senior year [to] get the deadline in. I would say that's my main down, that's kinda what I did," Rosol said. 
"My biggest piece of advice for future seniors is to start thinking about your essay topics early and to take the time to develop special relationships with your teachers so that they can write you a stellar letter of recommendation," Hampton said.