Students and Faculty Confront Social Justice Issues by Forming the 'DEI Task Force' and the 'Equity and Justice Task Force'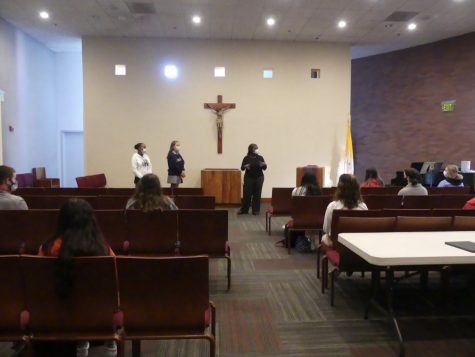 After the political and civil unrest of the Summer of 2020, the school's community has taken steps in addressing issues regarding inclusivity, equity, diversity, and justice. 
In order to fully tackle these important social justice issues from the students' perspective, Director of Student Activities Diana Neustadt decided to form the 'DEI (Diversity, Equity, and Inclusivity) Task Force.'
"The DEI Task Force gives students a place where they can discuss ways to make sure the future of Mater Dei is safe and fair for all students," Neustadt said. "Specifically for this group, this is the first time that we've been allowed to have a forum of this sort. I think it's good for kids to be able to see that they have a voice and that they can be instruments of change.
Although the DEI Task Force is in its infancy, Neustadt believes that this group of student-leaders can pave the way for a more inclusive and equitable school.
"Last summer […] suddenly brought to the forefront these things that we are talking about now," said Neustadt. "I believe that this group is taking its first important step. Is it the only step? No, but it's the first step."
Senior Laura Alfaro joined the DEI Task Force in hopes of creating positive change at school by encouraging her fellow students to speak up about the social justice issues that they are passionate about.
"As young men and women, we're in the position where we can pursue the change that we want to see," Alfaro said. "It's really important to know what's going on in the world. As kids, with so much privilege, and who come from families with so much privilege, sometimes we don't recognize the things that aren't affecting us. However, that doesn't mean that there aren't other people that are actually being affected by the changes that are made in politics."
Alfaro feels optimistic about the future of the DEI Task Force and of Mater Dei, reassured by her faith in what the school has done to address issues concerning social justice. 
"I think we're definitely shooting in a more progressive way, which is amazing," Alfaro said. "The idea that this Task Force was created upon acknowledges that there are problems and that we should face them. I love Mater Dei because I really do think that we are a school that puts in the work to be better."
Students are not the only ones taking part in this new initiative of change—Mater Dei's teachers and staff are taking part as well. History teacher Sidra Baig organized the 'Equity and Justice Task Force' to spread awareness of social justice issues among Mater Dei's educators.
"Our goal is to empower educators to facilitate transformational conversations in partnership to foster community leadership and learning in the classroom and in society," Baig said. "We want to be able to teach about Equity, Racism, Black Lives Matter, All Lives Matter, Inclusivity, Justice, etc. to our students, to make them aware of these issues that exist in our country." 
Baig believes that the teachers and administration have a special responsibility in forming and molding the next generation of young leaders and innovators. Baig, along with the members of the DEI Task Force, look forward to seeing the school grow as a place that is diverse, equitable, and inclusive for all students.
"Teachers and administration are well aware of the systemic racism in our country, we want to make students aware of these issues and to give them the tools to help improve the lives of all as they become young adults," Baig said. "Like our mission statement says: recognizing the world is ever-changing, we empower students to pursue personal growth and love for life-long learning as they embrace equity, justice, and peace."
Leave a Comment
Donate to The Scarlet Scroll
Your donation will support the Student Publications Department at Mater Dei High School. Your contribution will allow us to keep our equipment up to date and cover our annual website hosting costs.