Juniors attend first virtual career day amidst COVID-19
On Feb. 10, the school welcomed many career professionals to lead the junior class in the first virtual career day. Career day is a school tradition that is an opportunity for junior students to learn and understand the reality of careers that they are interested in and also understand what certain professionals do in their work field. Typically, juniors would have the ability to attend a career fair in the Meruelo Athletic Center and some designated rooms to meet with a variety of professions in all types of fields. However, with the help of both the advancement and counseling office, career day became a possibility – virtually. 
A special part about this career day that contrasted from those in the past was the increase of speakers who volunteered to present to the current junior class. Last year, all speakers were local alumni and volunteers. This year, eight speakers from out of state presented in the Zoom format who would not have otherwise been able to contribute.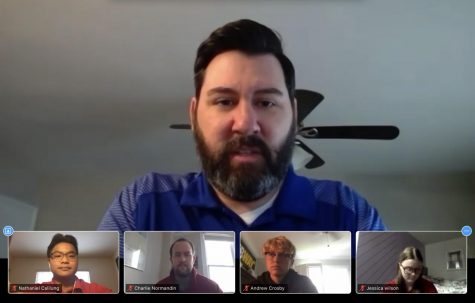 Before Career Day, juniors were emailed a Google Form to find out what peaked their interest in desired professions. Following this survey, Head of Alumni Relations Kathleen Kelly invited several Mater Dei alumni that fit the criteria, to present to the students.
"Many of our alumni have been in touch in the past saying they are interested in participating," Kelly said. "I tend to start with them as well as folks who have participated in the past."
Students were able to attend small breakout rooms to personally get to know and talk with the alumni mentors. Students were introduced to the mentors through a typical Zoom presentation format.
"We [had] all of our juniors attend the keynote speaker to start the day as we usually do [in] the MAC," Kelly said. "And then students [attended] 2-4 small group Zooms specifically to a career of their choice."
The advancement's office priority regarding career day was making sure students' interests were properly met. Junior class president, Andrew Leveque, decided to attend this special career day because he believed this experience would be a good chance to gain crucial information in relation to future job prospects.
"I think all juniors will be able to benefit from this virtual career day," Leveque said. "We [were] able to learn about our future job interests and gain vital information that we can carry beyond our educational careers."
By providing this opportunity of listening to a variety of speakers in different fields, students gained a better understanding about their potential future. Alongside gaining crucial information about job fields, Leveque was also excited about the guidance these alumni mentors have the possibility of providing to students.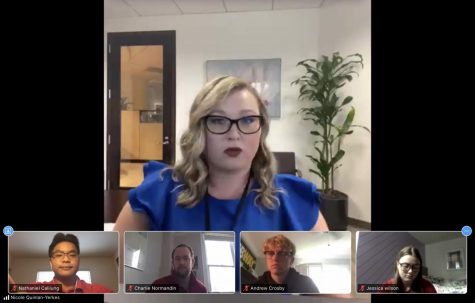 "My fellow classmates and I gained insight and knowledge on our future career options," Leveque said. "We are all in situations where we need to start thinking about what we want to major in for college and I believed this helped students to decipher what is and is not for them."
Counselor, Sasha Lo, stated that by attending career day, students could have the ability to explore career paths that would originally not have crossed their minds. With a diverse range of speakers, students could expand both social horizons in addition to job prospects.
"The guest speakers get to talk about their passions and share their wisdom with the next generation," Lo said. "Career Day has potential to lead students to new connections and potential follow up informational interviews or job shadowing opportunities."
Despite the pandemic at large, students still have the ability to advance and move towards their future aspirations and career goals through this event. With the aid of the supportive alumni network and counseling office, students can be guaranteed support for whatever they choose to pursue.
"Career planning helps students to make a meaningful link between the classes they're taking now," Lo said, "[and] the colleges or post-high school programs they plan to attend, and the occupations they hope to pursue in the future."
Leave a Comment
Donate to The Scarlet Scroll
Your donation will support the Student Publications Department at Mater Dei High School. Your contribution will allow us to keep our equipment up to date and cover our annual website hosting costs.