Who's New on Campus?
This year, in addition to changes in the school's schedule, lunch periods, and sports, Mater Dei welcomes new students and faculty members.
The Mater Dei website provides a way for students to learn about the new and returning faculty. Last year, students failed to have the opportunity to socialize during office hours or shared meals. But now with the only limit being masks, students are finding it easier to interact with faculty and peers alike due to the changed restrictions.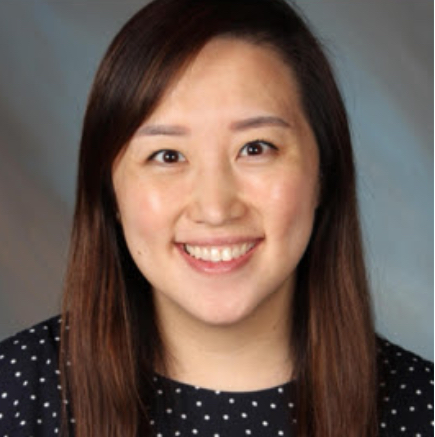 Although English teacher Eunice Kim is coming back for her second year, this will be her first non-pandemic impacted school year. Last year, like other teachers, Kim taught in the hybrid academic structure of a.m. and p.m. sessions.
Kim transferred to MD during the 2020-2021 school year and chose to come to the school because of the family environment.
"[Mater Dei] stood out to me as a school family through which I could partake in the privilege of working together for the success of each and every student through knowledge, preparedness, and heart," Kim said.
Despite the many hardships teachers faced due to COVID-19 and the hybrid schedule put in place by the school last year, Kim loves her job more than ever.
"English is my jam. I have been teaching English for 12 years, primarily at the high school level," Kim said. "I am interested in eventually getting involved in other extracurriculars, but for now, I love teaching English."
In addition to Kim, the school also welcomes a new president. After commencing a year-long, nationwide search to find a new president, Mater Dei chose Father Walter Jenkins, who previously served as the president of Holy Cross High School in Queens, New York.
Jenkins chose to come to the school because of his passion for working with students and desire to hold a leadership position.
"I was just kind of motivated by being [a president]," Jenkins said. "I really like this age group…especially working with high school [students]."
The move to the school also meant Jenkins needed to move to Orange County from San Francisco. Despite the change in scenery, Jenkins has enjoyed living in Orange County thus far.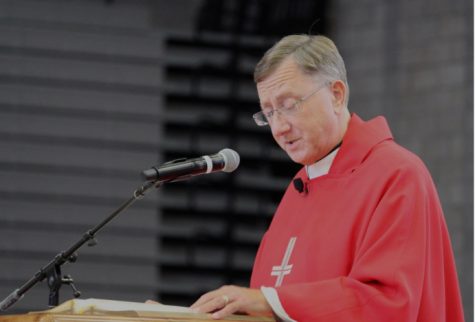 Along with Jenkins came a new addition to campus — Lancelot, the campus dog. Sir Lancelot Blaise Jenkins, more commonly referred to as Lance, is Jenkins' pet golden retriever. Lance traveled with Jenkins across the state, but some initial concerns were raised about him coming to school each day with the new president.
"[Lance] is really good in the car so [taking him from San Francisco to Orange County] was easy," Jenkins said. "He's been in a school with me before and he's kind of always been with me, but given the different things I've done, I was a little worried that [he] wasn't gonna be able to come to school [with me]."
On behalf of Mater Dei student publications, welcome to all new staff members and animals.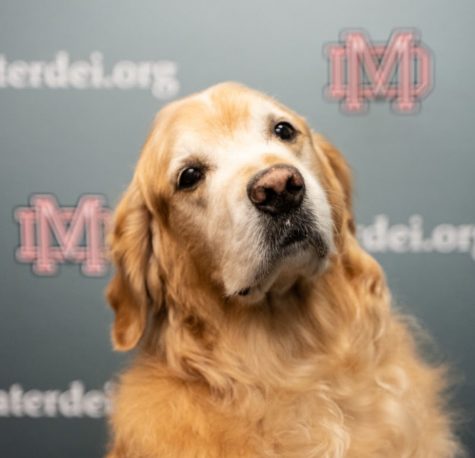 Leave a Comment
Donate to The Scarlet Scroll
Your donation will support the Student Publications Department at Mater Dei High School. Your contribution will allow us to keep our equipment up to date and cover our annual website hosting costs.