Students experience changes in mental health after returning to school full time
Across the country, schools are reopening their doors to in-person classes. As Mater Dei students flood onto campus for the 2021-2022 school year, they must readjust to the full-length school day. After the school switched to the hybrid model to prevent the spread of COVID-19 in 2020, what was once part of a daily routine for students has now become unfamiliar. As a result, students are experiencing strains on their mental health despite the benefits of full school days on campus.
For previous hybrid and online students alike, the burden that these changes put on mental health is affecting their stress levels at school and at home.
Sophomore Sidney Patino, who attended hybrid classes during the previous school year, has had to manage a heavier workload and longer school hours in returning to fully in-person classes and 7 hour school days.
"Sometimes, just thinking about all of the assignments teachers are giving you gets very overwhelming and sometimes it keeps me stuck where I don't want to do it and just push it back," Patino said. "I'm on the swim team and I'm also in Jiu Jitsu so that takes up a lot of time, especially since I'm at school all day— from 7 a.m. to 3 p.m. at least. It's gotten a lot harder and trickier to manage my time."
Not every new factor of school life is negative, though. The interaction between teachers and students is an important part of school life. Last year's hybrid schedule meant that time spent in the classroom was limited. Being in school full-time has afforded students more opportunities to communicate with their teachers.
"When it was online or just a few days in person, it didn't really give me that access to teachers all day or [at] office hour or lunch period to go talk to teachers and get the extra help for homework," Patino said. "It was a lot harder for me to do by myself, especially when I didn't understand it."
The return to in-person learning has especially been a shift for students who were online last year. These students now, not only have full-length school days, but are also, for the first time in over a year, back in the classroom and interacting with their teachers and peers.
Many students have expressed how the transition has eased their stress levels as well as improved their ability to learn. One reason cited for this is the ability to talk to and work with teachers face-to-face instead of over email or Zoom.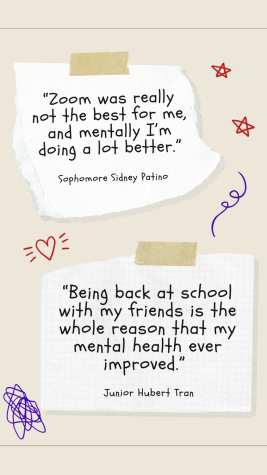 Junior and previous online student Hubert Tran explained how returning to in-person school has helped his study habits.
"It is much easier for me to study in person because I have access to a teacher whenever I have a question," Tran said.
Also contributing to students' mental health since coming back has been interactions with friends and peers. Tran went on to say how much returning to online school has improved his mental health in that aspect.
"Being back at school with my friends is the only reason that my mental health ever improved," Tran said.
Because students are going through a major shift, those who are accustomed to the shorter school days and classes may feel overwhelmed, distracted, and fatigued as they sit through instruction. Mater Dei's Children's Hospital of Orange County (CHOC) representative, Dr. Ana d'Abreu said that the solitary nature of online classes may affect development of critical social skills and may lead to feelings of loneliness and isolation from friends.
"Collaboration with classmates is so important. I cannot emphasize enough the importance of developing healthy relationships and communication skills as these are what drive future outcomes in career and life," d'Abreu said. "Evolutionarily, humans rely on one another to accomplish goals and survive. So when life gets tough and we feel the overwhelming sadness, worry, or stress, it is natural to rely on others for support."
While the return to school may be a cause of some stress, it also allows students to access resources to help them through this tough transition. On campus, activities such as joining clubs, engaging in hobbies, and participating in sports helps to facilitate interactions between friends and classmates.
"Maybe after some time, you will start to feel better. If not, feel free to come to the Guidance and Counseling Center," d'Abreu said. "There is a team of school counselors and CHOC Psychology therapists here to support you."
Overall, the stresses of returning to school are ones inherent to making lifestyle changes. When it comes to being in school, there are people and systems in place that can provide assistance to students. Simply being in the school environment can be a reason to enjoy the transition from hybrid to a full day.
"A lot of kids might not like school in the sense of [having] a lot of homework, but it's good to be at school," Patino said. "Being with friends—just being able to hang out with them— and being with classmates and teachers, my mental health has gotten way better. Zoom was not really the best for me, and mentally I'm doing a lot better. Homework can get a little overwhelming, but being at school definitely helped."
Leave a Comment
Donate to The Scarlet Scroll
Your donation will support the Student Publications Department at Mater Dei High School. Your contribution will allow us to keep our equipment up to date and cover our annual website hosting costs.