Coach Rollinson and the Mater Dei Legacy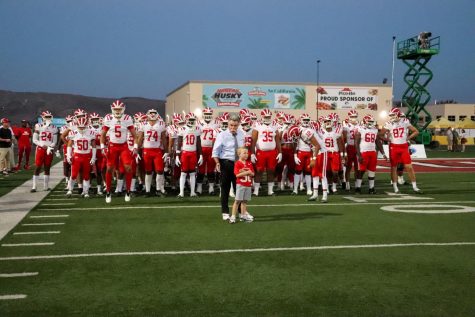 Today many would consider the name Bruce Rollinson as synonymous with Mater Dei Football. His legacy has been long-lasting as a student, player, and coach by inspiring many student athletes. He has a long history with the sport, first playing football as a student at Mater Dei in the 60's and furthering his athletic career by going on to play as a defensive back and wide receiver at USC under the legendary coaching of John McKay.
Later in his career, he found his passion in coaching and served as the assistant coach at Mater Dei for seven years before becoming head coach in 1989. To put it simply, he has a lot of experience with the sport and a love for it that stems from his relationship with his father.
"I was originally from New York," Rollinson said. "My dad played football, not at a high level, just high school and a little bit after high school. I watched football on Sundays with him. I wanted to emulate everything [he did]. He was a big influence in my life. And I realized also, from just playing in the streets in New York, [that] I was one of the fastest kids, if not the fastest kid. It was just a natural thing that I progressed with."
With his father being such a big inspiration to him, he took what he was taught and put it into his daily life and later into coaching.
"My dad was a highly-decorated World War II veteran," Rollinson said. "He fought when he was 19 years old. And when I say highly-decorated, it was all for bravery. He instilled in me kind of a tough attitude – just deal with things as they come at you. He taught me that you don't fear anything. You respect everything."
A big part of the football program at Mater Dei is community. Coach Rollinson works hard to bring the team together and instill Monarch pride in his players.
"Pride, poise and courage. That's what we live by [with] the three stripes on our helmets. [That's] what I want [my players] to understand," Rollinson said. "So when they face adversity, later on, they can think back [on] what I said, 'pride, poise and courage'."
Along with the values of pride, poise, and courage is Red Sacrifice, the theme of the 2022-2023 football season. This theme is inspired by Coach Rollinson's history and the sacrifices the players make each year as a team.
"They have to trust each other, and they have to hold each other accountable," Rollinson said. "This year the theme is red sacrifice. I knew we were gonna be good, but I knew we were young. And sacrifice is a great word because the older, experienced kids have to sacrifice for the younger kids and get the younger kids to understand what this is all about: unity, accountability, leadership, caring about each other, and respecting each other. There's a certain culture of Mater Dei Football and the culture is not winning. The culture is sacrifice and hard work."
One tradition that Rollinson has brought back is the prayer before and after each game at the foot of Mary in the Grotto. This prayer is a representation of Rollinson and the values he holds dear as a coach: sacrifice, humility, accountability, unity, leadership, respect, and most importantly honor, glory, and love.
"They have to remember every play and what their responsibility is, and I gotta remember my pep talk," Rollinson said. "But all of that is the center for that kickoff for that game. After is a time of thanks, whether [we] win or lose, it doesn't matter. I want the families with their sons [while] we say a decade of the Rosary. And then the night is over. But really we're giving thanks. We always pray, [so] you know that we will always defend Mary."
Leave a Comment
Donate to The Scarlet Scroll
Your donation will support the Student Publications Department at Mater Dei High School. Your contribution will allow us to keep our equipment up to date and cover our annual website hosting costs.