Students use creative strategies to study for finals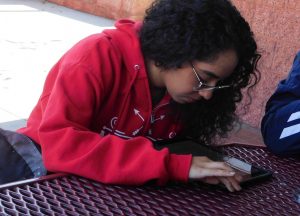 As the first semester of the school year is coming to an end, many Mater Dei students will be taking more time out of their schedules to prepare for their finals.
"[Finals] count a lot towards your grade and I don't want to mess up and get a B for the semester," freshman Caitlin Windross said. "I want to keep my As."

To prepare for her finals, Windross uses Quizlet and Sparknotes to understand the material better. She studies for two of her finals every other day. 

"I'm not going to lie. It's a stressful week for all of us, but I just take it one exam at a time, one day at a time," senior Jack Uribe said.

Uribe likes to start studying early so he can be as informed as possible before his finals. Like Windross, he finds Quizlet to be a very helpful resource for studying. He also uses practice tests and flash cards to "drill" information into his head. If he needs help with studying for his finals, he talks to his teachers for advice.
"I love all my teachers," senior Victoria Villarreal said. "They're all very open and very approachable and all very willing to help," 
Like Uribe, Villarreal also talks to teachers if she is confused about the materials on her finals and encourages other students to do the same.
"I just think it's better to be safe than sorry and I think it's good to have a open line of communication with your teachers. I just think that's another way to better prepare yourself," Villarreal said.
In addition to talking to her teachers, Villarreal creates handmade flashcards to study because she finds this helpful for memorization. She also finds it helpful when her teachers make Kahoots and review their study guides.
 "The biggest thing that I notice is that students…they want to do better, but they're not sure how to do better and even though you tell them you're here for lunch time, after school, and before school help, they're still afraid to come in to make that first step of getting better," said Anthony Vasquez, who teaches Algebra 1A and 1B. 
Vasquez is there to help his students, and he encourages them to come see him before school, during lunch and office hours and after school if they are struggling in his class. To help his students prepare for his final, he sets up an outline of what needs to be studied and creates a study guide review on Aleks. He understands that not all students have the same learning styles and wants them to succeed.
"I want them [my students] to do well, so I try to do everything I can to help them," said Brittany Machian, who teaches several different social studies classes.

Machian allows her students to do Kahoots and review games during class to help them study. She finds that when her students have fun while studying, studying doesn't become a stressful activity.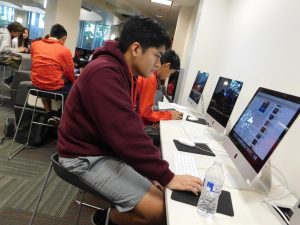 In addition to talking to their teachers and using various study techniques, students can come to the library to study for finals.

Until finals are over, the library will be having Silent Study time and slideshows of study tips with titles such as "Stay Motivated" and "Study in Groups" with small descriptions below these titles.
"When it comes to preparing for finals, I want to make sure that there is a spot where students can come and study in a more peaceful and calm environment," Director of Innovative Education Programs Molly Chace said.

Silent study time in the library will be available before school, during lunch, and after school for students who are looking for a quiet place to focus and study at school.