The school finds new ways to celebrate masses and rallies despite COVID-19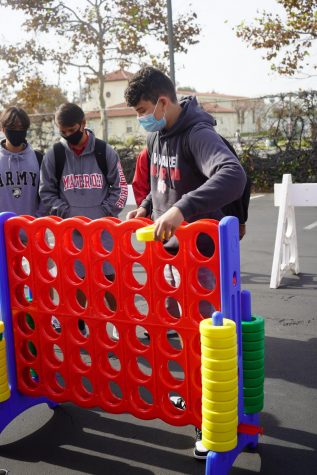 School-wide masses and rallies are an integral part of the school community, uniting the student body in worship and school spirit. However, due to the COVID-19 pandemic, these events are no longer able to take place due to safety precautions. In order to make up for this lack of communal presence on the school's campus, ASB and staff have worked together to promote fun social events for the student body that follow public health guidelines and regulations. 
Instead of having all school masses located inside of the Meruelo Athletic Center (MAC), the school has scheduled masses with smaller groups that take place in the Grotto. These masses work to provide a social and religious event for  the student body to attend and grow together. 
"The reality is that we cannot have all-school mass, but instead of using the negative energy, let's choose the energy of the Eucharist," Head of Campus Ministry Helen Steves said. "We have the opportunity where you can go to Mass every single day, go to Mass in your parish, and if you're not comfortable to go in, what we have to go outside, and the groups have to be small." 
ASB has planned several events in which various grades have the opportunity to socialize while being socially distanced from each other. The school has organized a new event called freshman fun day, which allows the class of 2024 to eat lunch together, stay socially distanced, and hang out with their new peers as they have not had the same opportunities to grow closer as a class. Freshman Matt Storbeck attended the freshmen fun days, and believes that it has helped him meet students he would not have interacted with due to the hybrid schedule. 
"Having this day was great for being able to see classmates from both morning and afternoon classes," Storbeck said. "It was also nice to have a whole space dedicated to freshmen so we could meet other classmates."
Head rally commissioner, junior Lauren Haney, said that the rally commission as well as ASB both plan and anticipate the schedule for school events and rallies in the near future. 
"[We want] to work with others to create rallies that follow the COVID guidelines," Haney said. "[However] they most likely won't be able to take place until next spring. Until then, we are coming up with more casual ideas that can maybe take place every week to spread school spirit."
Despite the pandemic at large, various social events at school still have the capability to move forward and move towards the new "normal." With the integration of both remote and hybrid school formats, social interaction remains a gray area. But with the leadership of both ASB and Campus Ministry, students can be ensured an optimum experience for the future. 
"We look mainly at freshmen and seniors, as this is the freshman's first year and we try to make it fun for them," Haney said, "And then it's obviously the seniors last year, so we try to make rallies as memorable as possible for them."
Leave a Comment
Donate to The Scarlet Scroll
Your donation will support the Student Publications Department at Mater Dei High School. Your contribution will allow us to keep our equipment up to date and cover our annual website hosting costs.