Campus Ministry hosts Walk in Faith retreat—raising morale of students in midst of COVID-19 pandemic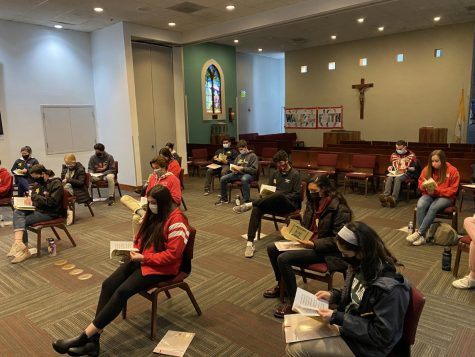 Whether it is gathering in rambunctious song or sitting in the silence of solemn prayer, Walk in Faith retreats have always been a hallmark tradition of Campus Ministry. This year, despite the many challenges posed by COVID-19, Campus Ministry has still decided to host its annual 'Walk in Faith' retreats for junior and senior students.
For senior Rachel Dennin, retreats like 'Walk in Faith' have allowed her to freely express her spirituality with a community that makes her feel comfortable and welcome.
"I feel like Walk in Faith is really important because retreats are just safe, open, and welcoming spaces for people of any background," Dennin said. "At retreats, I've always experienced this special kind of connection with my community that you can't find in a lot of other spaces."
After experiencing her first Walk in Faith retreat in the winter of 2020, Dennin said she grew in her appreciation of the retreat's recurring themes of peace and love. She feels as though these themes are especially important in coping with the state of today's world.
"I would highly recommend [Walk in Faith] no matter your experiences with your faith, background, or other circumstances in life," Dennin said. "It can be a really moving experience and serve as a really nice reflective time in your life to help you grow and find some peace and love during this hectic time we're living in."
Like Dennin, senior Lily Ponce emphasized the need for more love, especially in this new and unforeseen era of COVID-19. Ponce said that the political and social dissonance of 2020 was due in-part to lack of community and empathy towards others.
"Love brings us together more than anything," Ponce said. "In dark times like these, people are experiencing a lack of love or have even stopped loving themselves. I feel like Walk in Faith really just brings that message back to the center of our hearts."
Despite the difficulties of living in the time of the pandemic, Ponce said she still feels content with her decision to participate in this year's retreat. She believes that the experiences and the friendly connections made during this retreat are invaluable.
"It was so worth it," Ponce said. "When you come out of Walk in Faith, you just feel really loved. That's what's important, especially in terms of the camaraderie that you build within the Campus Ministry community."
Associate Director of Campus Ministry Kendra Hart said she believes that experiences like these are crucial in developing the spirituality of graduating seniors. Hart, along with her team of staffers, hosted Walk in Faith in the hopes of creating life-long relationships and instilling each senior with the passion to continue living out their faith.
"Retreats are about relationships," Hart said. "They're about forming relationships with one another, and solidifying your relationship with God. Walk in Faith is a retreat that gives you the tools to live your faith when you're on your own as an adult outside of the little bubble of Mater Dei and Orange County."
With this year's Walk in Faith retreats, Hart's ultimate goal is to bring hope and faith to the forefront. By participating in these retreats, she hopes that every student finds their own sense of internal healing and growth in their relationship with God.
"Especially during a pandemic, we need to nurture and foster our relationship with God," Hart said. "We need to nurture that internal relationship with God—that spiritual healing comes with retreats. That's why I think it's so important that we continue with retreats, prayer, and service during this time. We still need it now more than ever."