The Ultimate Guide to the Parking Structure
Four acres, three stories, and 990 parking spots: The parking structure is a relatively new addition to campus. Open to students and faculty, it serves as an efficient solution to many high schools' problem – parking. The structure has been open for use since September of 2019 and has served the Mater Dei community ever since. But when the school puts a bunch of newly-licensed teenagers in a concrete jungle, problems are bound to occur. Hence The Ultimate Guide to the Parking Structure – an instruction manual that chronicles the school's student and staff experiences, tips, and tricks for parking.
One obstacle many students face is traffic, outside and inside of the parking structure. Senior Andrew Petersen is no exception.
"I would have been at the parking structure ten minutes before class started, but there was a line that went all the way through the streets and neighborhood," Petersen said. "So it took me 10 minutes just to get into the structure. So I was late [to school] ".
One could ask the question 'how do you get to school on time?' and one answers 'you have to leave on time.' But how early does one need to leave to be considered leaving "on time"? To figure it out, a complex mathematical equation must be solved. Here's the formula– a little bit of advice.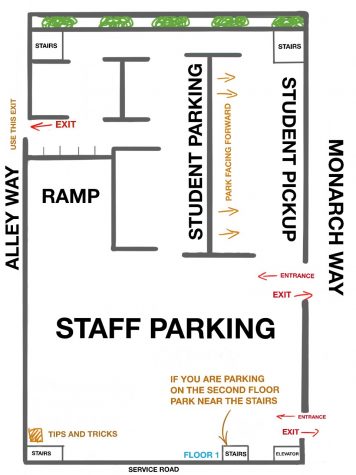 "I live about 20 minutes away [and] I usually leave 30 minutes before. So I usually get to school ten minutes before it starts, [and] sometimes I'm late, [but] that's my fault. Sometimes I get lucky and I'll get to the parking structure five minutes before school starts," Petersen said.
Junior Avery Pesko has a similar approach.
"I live in Huntington Beach and I like to get here earlier, so I leave 40 to 50 minutes before school [starts]," Pesko said. "I get [there] about 15 minutes early."
Though their time frames are similar, a gap of ten minutes can mean the difference between the bell ringing while someone is in their car or in their classroom. But these are all estimates from accounts of students. One answer to this question comes from Security Lead and Assistant Football Coach Mark Robinson.
"I would say from about 7:25am to 7:50am we have the most traffic," Robinson said. "Usually in the morning we get traffic about 30 minutes prior to the start times. Like for instance, yesterday [August 31] we had a 7:50am and a 9:30am start time. So around 7:25am or 7:20am cars started coming in and then it's usually those students and parents that kind of push the envelope and get their kids to school right at 7:50am."
According to these accounts, the best time to leave for school is 30-40 minutes prior to start time (if someone is coming from somewhere further add 20 minutes). But where is the best place to park? It all really depends on where one is going after school, Pesko and Petersen both agree.
Pesko said, "It really depends on how fast you want to get out of here, because usually there's a terrible line. I personally would park closest to any staircase – if you park upstairs. Then you can just get in your car and drive fast out of there."
That's what a student should do if they are parking on the second floor. For a student parking on the first floor, Petersen has his own strategy.
"If I know that I'm going to take a while or I'm going to leave with everybody else, [such as] when I have tennis right after school, I'll park near the exit," Petersen said.Petersen is referring to the exit underneath the second story ramp, however, he also mentioned his preferred parking spot upstairs too.
"If I know that I'm going to stay after school later, and leave early, [then] I drive to the second floor and park close to the stairs," Petersen said. "So I can just get out, run to class, and then be a lot quicker than parking in the far back."
So, if someone is parking on the second floor, park near the staircase, so after school one has the ability to get in the car and go. (This would be especially helpful in the case of needing a getaway driver… but the Scarlet Scroll does not condone this). Sadly, after school you're probably not going to be able to get anywhere too quickly, especially with everyone at school at the same time, which makes the structure busy.
"This year has been kind of stressful because everyone's trying to leave at the same time. There's [always] a long line and [that] means you have to wait there," Pesko said.
When asked how long Pesko has been stuck in the parking structure, she said nearly 40 minutes – which is double the amount of time it takes Petersen to get to school. Pesko believes this is partly due to aggressivity. She understands everyone wants to leave school, but they have to take into account the people still waiting.
One quick fix that could help someone get out of the parking structure faster is backing into a parking spot. This trick is the best option, at least in the eyes of Pesko and Robinson.
"I would recommend parking facing forwards because if you're trying to get out of a spot, it's easier to maneuver," Pesko said. "Instead of just backing up and trying to push your way in."
From an outside view the logistics of parking forward do seem more favorable, especially if you have somewhere to be. Robinson seems to agree.
"If you're closer to an exit – let's just say you're coming in on Monarch Way – I think if I am a parent or a teacher I would want to be able to pull right out when it's time to leave and that way it's easier and safer," Robinson said.
This parking technique is especially helpful when one is trying to get out of their parking spot and into the line and Petersen likes to use this trick to his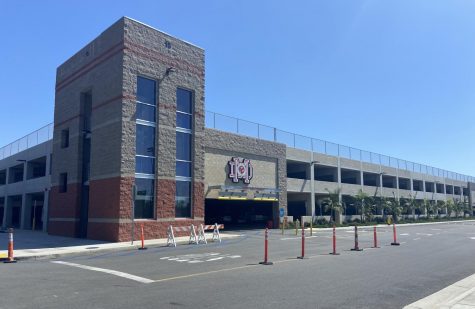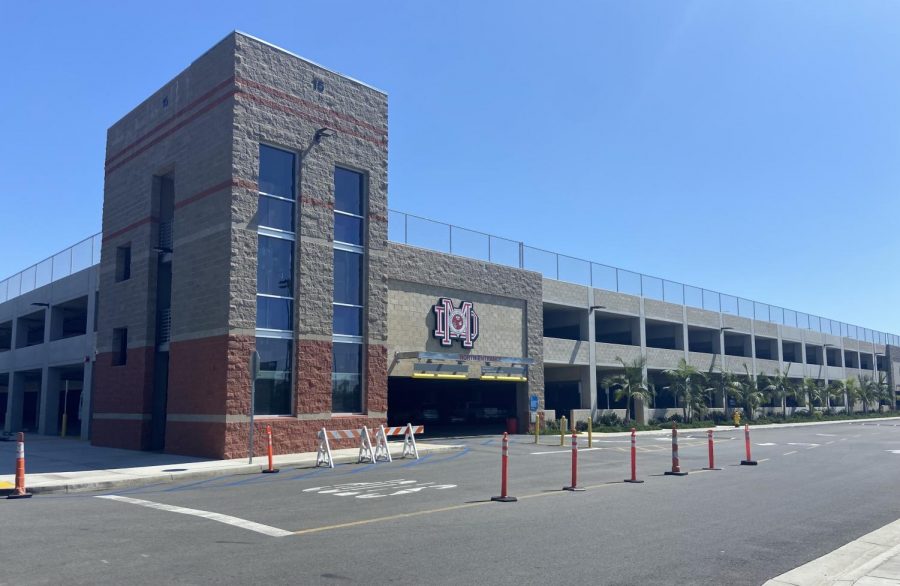 advantage.
"Usually I make eye contact with the person I'm trying to get in front of, then almost wave at them and make a funny face. Then they'd be like, 'Hey, I respect this guy,' and [they] let me through," Petersen said. "I have used hand movements before to look jovial. Like opening the window [or] turning on a good song."
Petersen recommends the best way to get into line is by looking happy, not too much. Just smile… and pretend you're in the Bahamas instead of a concrete building, act like you just met your idol, and most importantly remember to not forget to have a good song playing.
As a fun anecdote Pesko offers an eyewitness account of questionable circumstances from within the parking structure.
"I have witnessed someone scraping the side of someone's car and just like leaving," Pesko said. "I was in the car [with a friend], and we were parked. There was a girl one parking space away from us and an empty parking space between us and she was sitting in her car. This other girl just came [and] tried to pull in quickly. I don't know how she didn't proportionalize, but she scraped the long side of her car and then backed up and left."
From this account, we know that not all drivers are demonstrating proper etiquette in the parking structure. Petersen, however, mentions what you should be aiming to have a more pleasant parking experience for yourself, and others.
"Be courteous of those people [trying to merge in line] because nobody likes it when you just don't pay attention to the person that obviously has a right of way in front of you. Don't cut people off. Never honk," Petersen said. "Be confident."
The (very) unofficial guide map to parking in the campus concrete jungle. "When you have over 2000 students, you have parents coming in and out, you have students coming in. It helps because we have the space, but it's always gonna be some type of traffic," Robinson said.
"Four acres, three stories, and 990 parking spots," The Mater Dei parking structure was opened in Fall 2019 for use by the entire school.
Leave a Comment
Donate to The Scarlet Scroll
Your donation will support the Student Publications Department at Mater Dei High School. Your contribution will allow us to keep our equipment up to date and cover our annual website hosting costs.